In the 2015 General Election the Labour Candidate criticised John Hemming for having an external interest and made a pledge that she would be a "Full Time MP for Yardley and my only other job will be mom & carer ...". Here is a copy of that pledge:

Since that point she has been working on paid Television Programmes and has also written a book. John Hemming has made no secret of the fact that he chairs the board of the company he founded in 1983. This involves one meeting a month. When he was the MP for Yardley he was a full time MP and the Job of being MP for Yardley came first. The Labour candidate has reported 1,274 hours of work other than being an MP in the two years she has been elected and her income in the last year was over £131,000.
Ignoring the question as to how she reconciles that with her "pledge" the question is raised as to what extent her external activity conflicts with the role of Member of Parliament for Yardley. She is supposed to declare the time she spends relating to her external income, but she has failed to declare anything about promoting her book. She has been going around to various places to increase book sales. Some of the events have a paid ticket others are free, but they all involve selling the book. Because she has not declared this and has failed to answer questions about which events she has planned it has been difficult to find everything. However, some of the events have been found. This table looks at the extent to which these events conflict with being an MP.
When
Location
Commentary
27th Feb
Channel 4
there were a number of media and newspapers interviews about the book. Without knowing more details it is hard to work out if there were any conflicts
4th Mar
Waterstones, Birmingham
24th Mar 7.30pm
The Wynnstay Hotel, Oswestry
Her advice bureau starts at 5.30pm on this day. Travel time to Oswestry is 1 1/2 hours. John Hemming's advice bureau tended to last for 90 minutes. She needs to answer questions as to what happened about the advice bureau
28th Mar 6.30-8.30
Labour Womens Network Parliament
29th Mar 7.30
Waterstones, London
This was on a wednesday when votes in the House of Commons normally start at 7pm and can go on until about 8pm. She was lucky in that unusually the vote was at 17.18 so she did vote. However, she needs to answer the question as to why she planned something at this time.
4th Apr
London Institute for Government (discusses new book)
22nd Apr 8pm
Birmingham Literature Festival
23rd Apr Sunday
Cambridge Union Chamber
26th May 12.30pm
Bristol
Travelling to Bristol and back plus the event would take out most of Friday. John Hemming used Fridays for complex constituency problems, visiting schools and the like. The candidate needs to explain why this was OK and what happened to the advice bureau at 5.30 - it was possible to get back in time to do it.
28th May 6.15pm
Bath
The above list is probably not all of the promotional events. If anything is inaccurate the Labour campaign merely need to tell us and we will correct it. However, it is clear that in the planning of this list (and some of the events have been cancelled now - we are not entirely sure which) there was a conflict between the events as planned and the normal role of an MP that needs to be explained by the Labour candidate.
This is the only response so far from the Labour Candidate.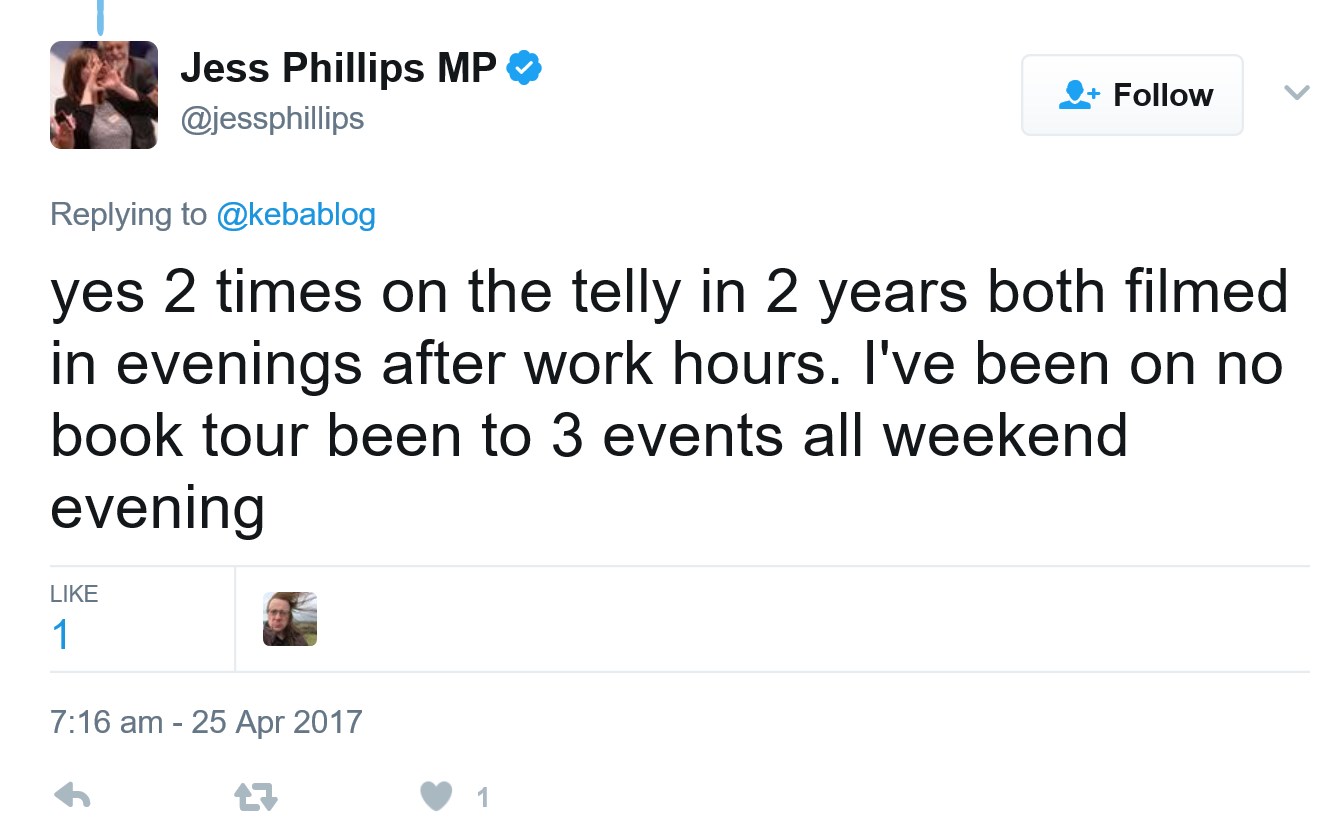 Why it matters
One function of the House of Commons is to resolve all grievances (article 13 Bill of Rights). The advice bureau is important as it is a route by which a member of parliament finds out what the grievances are. Hence making a decision that selling a book is more important than the advice bureau is undermining the role of an MP. Similarly voting is important. Decisions are made by MPs voting in divisions.
For the avoidance of doubt
It is not the writing of the book that is in issue (ignoring for now the promise not to do this). It is organising promotion events that conflict with the functions of an MP.